Central Texas Farm Credit Promotes San Saba Native
SAN SABA, Texas — Central Texas Farm Credit recently promoted San Saba native Danna Boswell to loan documentation specialist in the rural lending cooperative's San Saba office.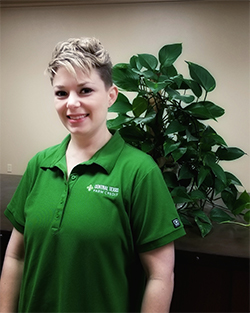 Boswell joined Central Texas in 2015 as a receptionist. She and her husband, Matt, also a native of San Saba, have two children. Matt is the sheriff of San Saba County.
"We are pleased to announce Danna's promotion," said Central Texas Chief Operating Officer Zach May. "She brings great value to our team and to our member-owners."
Central Texas Farm Credit is a member of the nationwide Farm Credit System, financing farm and ranch land, agribusiness operations, rural land and homes, and recreational property in its 20-county area. Headquartered in Early, the 100-year-old cooperative has branch offices in Brady, Early, Coleman, Comanche, Haskell, San Angelo, and San Saba.