Central Texas Farm Credit Promotes Tyler Niehues to Loan Officer
SAN ANGELO, Texas —Central Texas Farm Credit (CTFC) recently promoted Tyler Niehues to loan officer in their San Angelo branch office.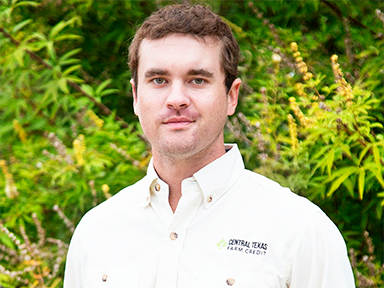 Recently, Niehues was loan officer associate for the rural lending cooperative. He joined CTFC in 2018 as a credit analyst associate. A native of Wall, he attended Texas Tech University and earned a Bachelor of Science in Agricultural and Applied Economics.
"Tyler has demonstrated his ability over the past several years and I am confident that he will excel in his new role," Wade Polk, San Angelo vice-president branch manager said. "This promotion will allow him to bring greater value to our customers."
Central Texas Farm Credit provides financing for all types of rural real estate, including farms, ranches, rural homes and land. The lender also finances livestock, equipment and the working capital needs of farmers, ranchers and agribusinesses. Part of the nationwide Farm Credit System, it is headquartered in Early and has branch offices in Brady, Coleman, Comanche, Early, Haskell, San Angelo, and San Saba.