VP/Branch Manager Dale Bullinger to Retire April 30
HASKELL, Texas — Dale Bullinger, vice president and branch manager of Central Texas Farm Credit's Haskell office, will retire on April 30 after 37 years of Farm Credit service.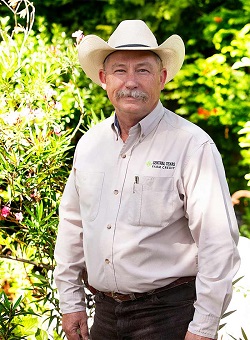 Bullinger began his career in March 1981 as a trainee with the Federal Land Bank Association (FLBA) of Stephenville, where he later became assistant manager. In November 1982, he was hired as manager of the FLBA of Haskell and served in that capacity until September 1997, when the FLBAs of Brownwood, Coleman, Haskell and San Angelo merged to become the FLBA of Texas. Later, the organization evolved into what is now Central Texas Farm Credit.
"One of the best things about my career has been the borrowers I have worked with through the years," said Bullinger. "Many of them have been repeat customers over the 35-plus years that I have been in Haskell, and I have had the pleasure of dealing with two and three generations of the same family in many cases during that time. I appreciate so much the confidence our members placed in me and in our Haskell office."
Central Texas Farm Credit Chief Executive Officer Jimmy Chambers said Bullinger will be greatly missed by his co-workers and by the Rolling Plains ag community.
"Dale has always been a valuable team member, and we are blessed to have had him as part of our Central Texas Farm Credit family," said Chambers. "We wish him the very best as he heads into this new chapter of his life."
In a letter to his customers, Bullinger said that he will be leaving the Haskell office in capable hands with Kassidy Martin, senior loan officer, and Vicki Adams, loan documentation specialist.
Central Texas Farm Credit is a member of the nationwide Farm Credit System, financing farm and ranch land, agribusiness operations, rural land and homes, and recreational property in its 20-county area. Headquartered in Early, the 100-year-old cooperative has branch offices in Brady, Early, Coleman, Comanche, Haskell, San Angelo and San Saba.