Donation to Update Brown County Fair Association Facilities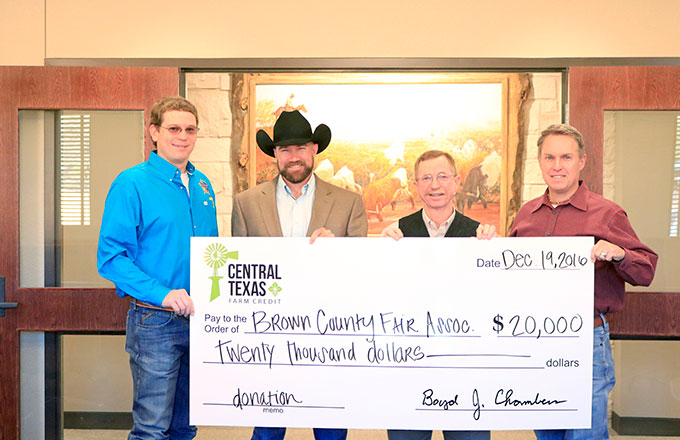 EARLY, Texas — Central Texas Farm Credit (CTFC), a rural lending cooperative with headquarters in Early, recently donated $20,000 to the Brown County Fair Association. According to CTFC Chief Executive Officer Jimmy Chambers, the money will help make some much needed improvements to the facility by updating the lighting in the cattle barn, sheep barn and parts of the PA system. The facility hosts many events annually, but most known are the youth stock show and rodeo.
"We are pleased to contribute to the youth of Brown County with this donation," said Chambers. "The exhibitors who use these facilities represent the future of agriculture and will be responsible for feeding and clothing the world. I can't think of a better group to support."
Central Texas Farm Credit provides financing for all types of rural real estate, including farms, ranches, rural homes and recreational property. The lender also finances livestock, equipment and the working capital needs of farmers, ranchers and agribusinesses. The cooperative has branch offices in Brady, Brownwood, Coleman, Comanche, Haskell, San Angelo and San Saba. It is part of the nationwide Farm Credit System, which celebrated its 100th anniversary this year.