Farm Credit Young Leaders Trip
COLEMAN, TX - Adam and Michele Holik of Wall recently learned about the role they can play in shaping the policy that affects this country's farmers and ranchers. They were among 28 young agricultural producers selected to attend the 2011 Farm Credit Young Leaders Program. Member-borrowers of Central Texas Farm Credit, which is part of the Farm Credit System, the couple interacted with government, financial and agricultural decision-makers and received an inside look at how the System operates.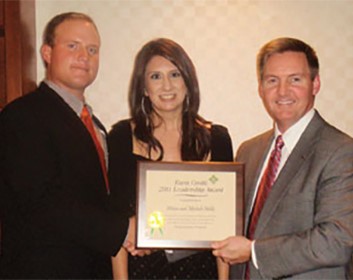 During the sixth annual event, sponsored by the Tenth District Farm Credit Council, participants traveled to New York City and Washington, D.C., while 2012 Farm Bill discussions were being held. Each lending co-op in the district chose participants who have shown outstanding leadership and involvement in the agricultural industry.
Adam grew up in the Wall area and had always wanted to farm, like his grandfather, father and brothers before him. He and Michele grow cotton, milo and wheat and raise cattle in Tom Green and Concho counties. Michele grew up in Robert Lee, where her family raises and shows goats. She has a degree in animal business and communications from Angelo State University.
The young leaders' visit to the U.S. House Chamber during a vote capped off their four-day trip, which included meetings with agriculture industry representatives, Farm Credit Council officials and congressional staff in Washington, D.C. The group also had a briefing at the Federal Farm Credit Banks Funding Corporation and toured a Wall Street brokerage firm in New York City.
Adam and Michele described the trip to New York and Washington, D.C., as "a delightful experience; we had the opportunity to learn about the Farm Credit system, as well as meet new friends and hear important information about agricultural matters. The trip was a once-in-a-lifetime event, and we want to thank Central Texas Farm Credit for this opportunity."
The Tenth District Farm Credit Council is the trade association that represents the legislative and regulatory interests of the Farm Credit Bank of Texas and its affiliated institutions throughout Alabama, Louisiana, Mississippi, New Mexico and Texas.