Central Texas Farm Credit Promotes Matthew Iley to Branch Manager
EARLY, Texas — Central Texas Farm Credit recently promoted Matthew Iley to branch manager of the lending cooperative's Early branch office.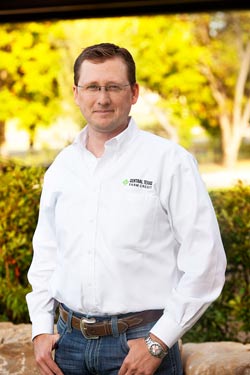 A three-year veteran of Central Texas Farm Credit, Iley most recently served as the branch's senior loan officer. He joined Farm Credit in 2014 with 11 years of experience in the commercial banking industry.
Iley is a native of De Leon and a graduate of Tarleton State University, where he earned a bachelor's degree in agribusiness. He and his wife, Brandi, have two boys, Easton and Kelton.
"Matthew has been a key part of our success and his promotion reflects our commitment to excellence," says Travis McKinney, Central Texas Farm Credit's Chief Credit Officer. "His knowledge of the Brown, Mills and Comanche County markets will ensure we're providing our shareholders with reliable and consistent credit. The coming years are going to be a time for growth for Central Texas Farm Credit and he has the experience and expertise to exceed borrower expectations. I am proud to have Matthew on our team."
Central Texas Farm Credit is a member of the nationwide Farm Credit System, financing farm and ranch land, agribusiness operations, rural land and homes, and recreational property in its 20-county area. Headquartered in Early, the 101-year-old cooperative has branch offices in Brady, Early, Coleman, Comanche, Haskell, San Angelo, and San Saba.