Stockholders Participate in 2016 Farm Credit Young Leaders Program
EARLY, Texas — Bryan and Carrie Morris of De Leon, Texas, recently saw firsthand how Farm Credit's cooperative structure and unique funding mechanism enable it to help rural communities and agriculture thrive. The Morrises, member-borrowers of Central Texas Farm Credit, were among 22 agricultural producers who attended the 2016 Farm Credit Young Leaders Program in New York City and Washington, D.C.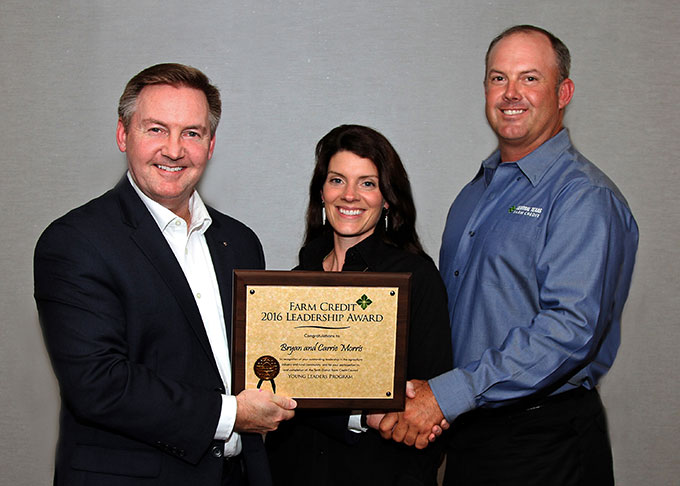 The 11th annual program began with visits to a Wall Street brokerage firm and the Federal Farm Credit Banks Funding Corporation. There the group learned how the sale of highly rated Farm Credit notes and bonds to investors provides a steady stream of funding that local lending cooperatives put to work in rural communities. Nationwide, Farm Credit provides more than $242 billion in financing to farmers, ranchers, rural homeowners, agribusinesses and other eligible borrowers.
Next the group traveled to the nation's capital to exchange ideas with Acting Deputy Secretary of Agriculture Michael Scuse, members of Congress and congressional staff. The five-day program also included a visit to Mount Vernon, George Washington's innovative farming and milling operation.
"Helping agricultural producers of all ages and experience levels be successful in a complex and capital-intensive business is an important part of Farm Credit's mission," said Stan Ray, president of the Tenth District Farm Credit Council, which hosts the Young Leaders Program. "These impressive participants were chosen by their local lenders for this opportunity to learn about Farm Credit and discuss policy issues that are important to farmers and ranchers."
The Morrises grow coastal Bermuda hay for feed stores and for private sale. A fourth-generation farmer, Bryan Morris also raises cow-calf pairs, club calves and bred replacement heifers. Carrie Morris manages the farm office, and operates a seasonal pumpkin market and a bed-and-breakfast. The couple has three children.
This year marks the centennial of the Farm Credit System, a nationwide network of borrower-owned lending cooperatives that support rural communities and agriculture. The Tenth District Farm Credit Council is the regional member of the national Farm Credit Council, the trade association that works on behalf of System institutions and member-owners.