Central Texas Farm Credit Employee Jessica Railsback Named Finalist for Texas Farm Bureau Young Leaders Award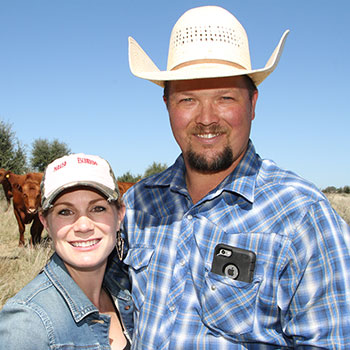 Cisco, Texas — Ranch management is a rewarding task. But add challenges of an ever-changing environment, a growing family and helping other farmers and ranchers through ag lending, and it's hard to imagine how one family can keep it all going.
But it's a juggling act Ryan and Jessica Railsback deliver with passion and optimism.
Ryan is the ranch foreman for Paraiso Escondido, where he manages the wildlife, brush control, building improvements and their partnership cattle herd.
The ranch has white-tailed deer and other native species, along with fallow deer, axis deer, Aoudad rams, elk, wildebeest and blackbucks.
Part of Ryan's job includes guided hunts and the behind-the-scenes efforts to make those possible.
"On commercial hunts, I am responsible for making sure we have enough animals, which animals to take, lining up help and the paperwork," he said.
Hunter education and managing land with cattle and wildlife are Ryan's passions. Both of which he was able to combine into a career.
"The cattle and wildlife complement each other really well, especially the white-tailed deer and smaller cervid species that are browsers," Ryan said.
The wildlife aspect is an important economic factor for the ranch.
The Railsbacks also partner with Paraiso Escondido's owner on a purebred Red Angus herd.
It ties into Jessica's family history of agriculture, which dates back to the 1860s. It's a legacy she's proud to continue.
That firsthand agricultural experience helps her professional career as a loan officer for Central Texas Farm Credit. She provides financing for real estate, agricultural operations and livestock and equipment purchases.
Seeing the farmers and ranchers accomplish their goals is rewarding.
"It's easy to get personally involved in their operations, because they pretty much take you in as family as well," she said. "Once you get to know them, you get to know their family and their operation. Watching them grow and succeed is fulfilling."
Both Ryan and Jessica are passionate about agriculture. It's something they want to pass on to their son and daughter—Reed and Kendall.
"It's wonderful that Ryan and I can both have careers in agriculture," Jessica said. "Because our kids can see that we work as a team and we strive to do our best. Hopefully, they'll learn that and take what we give them and apply it going forward. We hope they take it, cherish it and promote it even better than we have."
But water has been a major issue for the ranch and others in the area.
"We have been through several different water drilling companies and surveyors. We have looked at old water well records," Ryan said. "There's just nothing in this area."
That's when the ranch started harvesting rainwater. Now there is about 300,000 gallons of storage water, making the ranch self-sufficient.
The couple's diversity on the ranch helps them in their dedication and determination to assist others. They participate in Texas Food Connection Day activities with Stephens County Farm Bureau. They're also active in their church and attend and assist with AgriLife Extension programs.
Reprinted with permission from Julie Tomascik