Keith Prater Promoted to Chief Financial Officer
EARLY, Texas — Central Texas Farm Credit recently promoted Keith Prater to chief financial officer.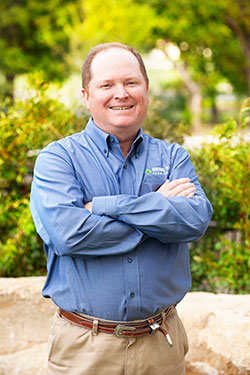 A three-year veteran of the rural lending cooperative, Prater was hired in 2015 as controller. He previously worked as the controller of Durham Pecans in Comanche, and was a commercial credit analyst and loan officer in Fort Worth.
Prater is a graduate of the University of Texas at Arlington, where he earned bachelor of business administration degrees in accounting and finance. He and his wife, Mika, have three daughters, and have a small commercial cow/calf operation. He serves as treasurer of the Comanche County Historical Museum Board of Directors.
"Keith has the background and accounting experience to support the ongoing needs of our Association," says Jimmy Chambers, Central Texas Farm Credit Chief Executive Officer. "Our business has become much more complex in recent years with increased regulations and stricter accounting rules. Keith has the knowledge and expertise to deal with those demands and his role is critical to the continued success of our Association. Adding Keith to our leadership team aligns our organization for future growth and serves as a testament to our dedication to serving the best interests of our shareholders. We have a bright future ahead of us and are happy to have Keith in his new role."
Central Texas Farm Credit is a member of the nationwide Farm Credit System, financing farm and ranch land, agribusiness operations, rural land and homes, and recreational property in its 20-county area. Headquartered in Early, the 100-year-old cooperative has branch offices in Brady, Early, Coleman, Comanche, Haskell, San Angelo, and San Saba.